Legacy Learning presents Learn and Master Painting, with Gayle Lev&eacute as instructor! Learn & Master Painting is the best home instruction course available to learn to paint with oils and acrylics. Master artist, Gayle Levée, has designed interactive lessons to provide you with a solid, comprehensive foundation for your own artwork.
Learn and Master Painting by Legacy Learning Systems with Gayle Leveé
Many people aspire to learn how to paint, but few know where to begin. Painting is relaxing and touches the creative side of our personalities. Plus, you'll have tangible expressions of your effort and imagination. It's important to find the right instruction, though, or you could spend hundreds of dollars in supplies and never use them.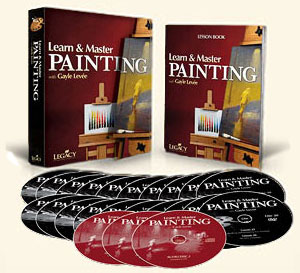 Learn & Master Painting is the best home instruction course available to learn to paint with oils and acrylics. I, Gayle, have designed interactive lessons to provide you with a solid, comprehensive foundation for your own artwork. Learn & Master Painting consists of 20 professionally produced DVDs, 3 Music CDs (to listen to while you paint), a thorough Lesson Book with supplemental information, and access to a free online student support site. It is the only instructional package you'll ever need on your journey toward painting mastery and to seeing the world through the eyes of an artist. All you need is the desire to create incredible works of art!
From the onset, learning how to paint can seem like an overwhelming endeavor. But when you study with me, I'll walk you through step-by-step video instruction, taking you from any skill level — even if you're a total novice — to painting with advanced techniques used by professional painters. You'll learn how to make your paintings look realistic and believable. I will teach you how to set up your studio, properly care for your materials, choose colors to best communicate your theme, and how to develop your compositions and draw objects in perspective. You'll learn all the foundational painting skills you'll need to become an accomplished artist.
By the end of the course, you'll understand how to get the illusion of depth and distance in a painting and you'll be amazed at how you are able to record your experiences and the world around you in your paintings. You'll complete several paintings — together with me — from start to finish and discover a whole new way to create!
Not a beginner? That's ok. Just review the basics (you might be surprised what you don't know) and jump into the more advanced training on perspective and color theory. Many classical and formal training programs don't include the information you'll learn here.
When not accompanied by detailed video instruction, printed materials alone can leave you frustrated and confused. Online instruction is difficult to follow. Private instruction is costly and inconvenient. Learn & Master Painting is the perfect solution to learn how to oil paint — you'll be thrilled by what you can create! You'll learn to make art, think about art, and discuss art.
The Learn & Master Painting Course includes: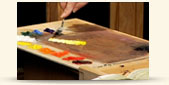 Video Demonstration
The twenty DVDs contained in Learn & Master Painting are the heart of this course. You'll learn everything you need to know about oil painting, from color theory to brushstrokes to perspective. We've captured all the hard-to-see instruction when taking art classes, like mixing the paint on the palette and painting the fine details on the canvas, so you won't miss a minute of instruction.

Printed Materials
Legacy Learning and I have gone to great lengths to see that their students have every resource they need to be successful! That's why we've included the Learn & Master Painting lesson book, full of pictures and painting techniques for added visual learning. It contains information on all projects demonstrated in the video lessons, so you can continue practicing at your own pace for as long as you need before moving on to the next lesson. Have you forgotten the definition of chiaroscuro? That's ok. We've also provided a glossary of painting terms to refresh your memory as you go through the course.

Three Music CDs
We know there are numerous ways to enhance your creativity. Artists don't need much to be inspired - even the smallest object in the corner of the room can set off a wave of inspiration. But, we do want to make your painting experience as pleasant as possible, so we're giving you three audio CDs of music to play in the background while you paint. You can choose between classical, orchestral, or modern music to suite your taste. You can even pick and choose between the songs you like to create your own playlist.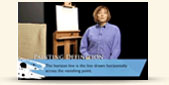 Professional Instruction
You will have me and all my teaching and painting experience to draw from during your journey.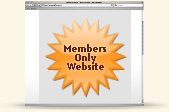 Online Community & Student Support
Ask any student of a Legacy Learning course, and they will tell you the same thing... Legacy students never have to learn alone. Our Student Support and Community sites are where we come together to ask questions, share obstacles, and celebrate successes. I is there to help when you get stuck. Your fellow students are there when you need encouragement. And soon enough, you may even find yourself offering some pointers of your own to those coming behind you. Either way, we hope you join us!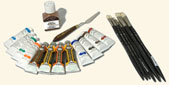 Painting Supply Kit
Because we know the idea of setting up an art studio can be somewhat intimidating and overwhelming, we're offering an optional painting supply starter kit. Let us help you get started learning to paint by sending you the paints, brushes, palette knife, and medium you'll use throughout the course. These products are the exact, high-quality supplies I recommend you use when painting. You'll also receive a discount when you buy the supply kit and course together.